Accu-chek Guide Me Meter Kit Pack Blood Glucose Monitoring System
Checking your blood glucose doesn't have to get in the way of your life. The Accu‑Chek Guide Me system is designed for quick, accurate testing, so you can get your number without giving it a second thought. The new Accu‑Chek Guide Me system is designed to be simply easy for quick, accurate testing.
Contents:
Accu-Chek Guide Me meter with batteries
Fastclix lancing device
Carry case
Instructions for use
NOTE: Test strips sold seperately Accu-Chek Guide BGlucose Test Strips (100 strips)
Benefits and Features
Large , easy-to-read display. Simply see test results.
Proven accuracy - fulfills the EN ISO standard 15197:2015 and delivers even tighter 10/10 accuracy
Automatically log results to your phone. Quickly track blood sugar, meals and more on the mySugr app
Wide test strip dosing area just a small drop of blood
Spill resistant vial designed to hold strips tightly in place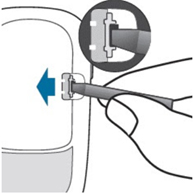 Please refer to the User's Manual provided with your Accu-Chek Guide Me meter. The battery door is opened by inserting a narrow object (a tool such as a screwdriver or key) into the slot to open the battery compartment by pushing the tab in the direction of the arrow and lifting the door up.
76 x 48 x 16 mm (LWH)
43 g (with batteries)
Wireless:Bluetooth®
Test Strip: Accu-Chek Guide
Accuracy: 10/10 accuracy (Data on file)
Results:Less than 4 seconds
Blood sample size:0.6 μl
Memory:720 diary records and 30 control results
Test averages:7, 14, 30, 90 days
There are no reviews for this product yet. Please write a review here.