Description
Do you have pregnancy related pain and discomfort such as:
Lower Back Pain? Sciatica?
Pelvic Instability and Pelvic Girdle Pain (PGP)?
Varicose Veins* of the upper thigh and Vulval Varicosities?
Do you have issues with mobility and stability and want to continue working and exercising?
How do they work?
SRC Pregnancy Leggings support the muscles of the pelvis by providing gentle compression. The compression in the shorts activates your muscles which promotes better core and pelvic stability. Additionally, graduated compression may prevent the development or worsening of varicose veins by preventing the blood pooling and therefore the symptoms of varicose veins and swollen legs.
Why would a health care professional recommend them?
SRC Pregnancy Leggings have been designed in consultation with obstetrician Dr. Grant Saffer. Anatomically designed support panels fit with the natural curves of the female anatomy whilst delivering consistent gentle medical grade compression. The garment delivers exceptional fit and maximum support without any feeling of restriction.
The reinforced gusset design allows maximum support to the perineum reducing symptoms of vulval varicosities.
SRC Women's compression shorts feature a proprietary luxurious fabric and breathable power mesh lining. These fabrics are independently and scientifically tested. Test results show that our fabric and its construction is not only of the highest quality but it consistently delivers continuous gentle graduated compression over time. To achieve this, high performance fabric panels are cut in multiple planes to provide multi-directional stretch performance which means that SRC compression garments retain their stretch and strength characteristics longer than some leading sports performance brands.
Wearing the leggings at night:
Truly more comfortable than pyjamas, SRC Leggings are especially useful to wear to bed. They provide the necessary support to minimize the effects of pelvic pain during sleep.
Compression
*Please note: SRC Pregnancy leggings have a gentle level of graduated compression in the legs. These are suitable for women with mild varicose veins or swelling. This product will not provide enough compression for moderate or severe varicose veins of the legs. Women often complain that wearing a grade 2 or 3 compression stocking for long periods can be difficult due to them becoming hot and tight. The SRC Leggings were designed with a specific level of compression so that women can wear their compression stockings under the SRC Leggings for a number of hours during the day. Once the compression stockings have been removed the SRC Leggings will continue to provide mild graduated compression so the benefit of having worn the stockings is not lost.
Size Guide:
Measure in your underwear only. Stand with your heels together and keep the measuring tape straight. Place the tape over your hips, pubic bone and bottom at the fullest part. The tape should touch your body at all points but not be pulled tight.
We advise you measure and order your SRC Pregnancy Shorts and Leggings during the 12-15 week of pregnancy or when you begin to feel discomfort and pain or as advised by your healthcare practitioner.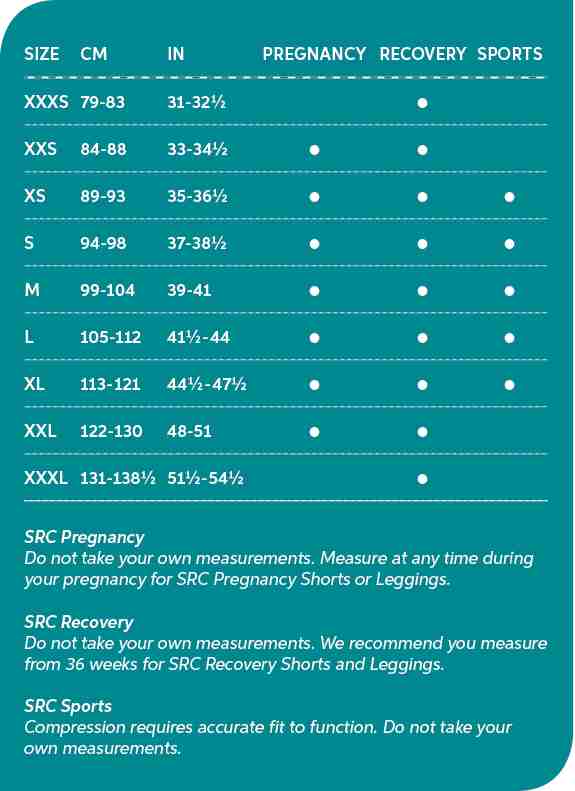 View All
Close
2 Reviews
SRC pregnancy leggings are amazing

These are so awesome! Easy to measure yourself up and really great support. I love them!

fantastic leggings - plus great support from the staff here!

my wife says these are super supportive and so comfortable to wear all day. plus the help and care provided by the staff here made me feel like i was actually at my local pharmacy! highly recommended!
View All
Close