Description
JOBST® Relief delivers the certainty of graduated sustained compression therapy. The range consists of classical therapeutic stockings that offer durability and comfort in a wide range of style options including knee high, thigh high, waist high and chaps, in both open and closed toe styles.
Features and Benefits
Comfortable
A generous toe allowance - Soft silk texture
Beige colour reduces visibility
Available in extra-full calf sizing
Open and closed toe designs to suit all user preferences
Silicone blend softener makes Relief easy to don
Wide comfortable support band that stays in place
Durable
Reinforced heel
Durable silicone construction
Safe/Effective
Latex free construction reduces skin irritation
Hosiery design produces graduated sustained compression
Size Guide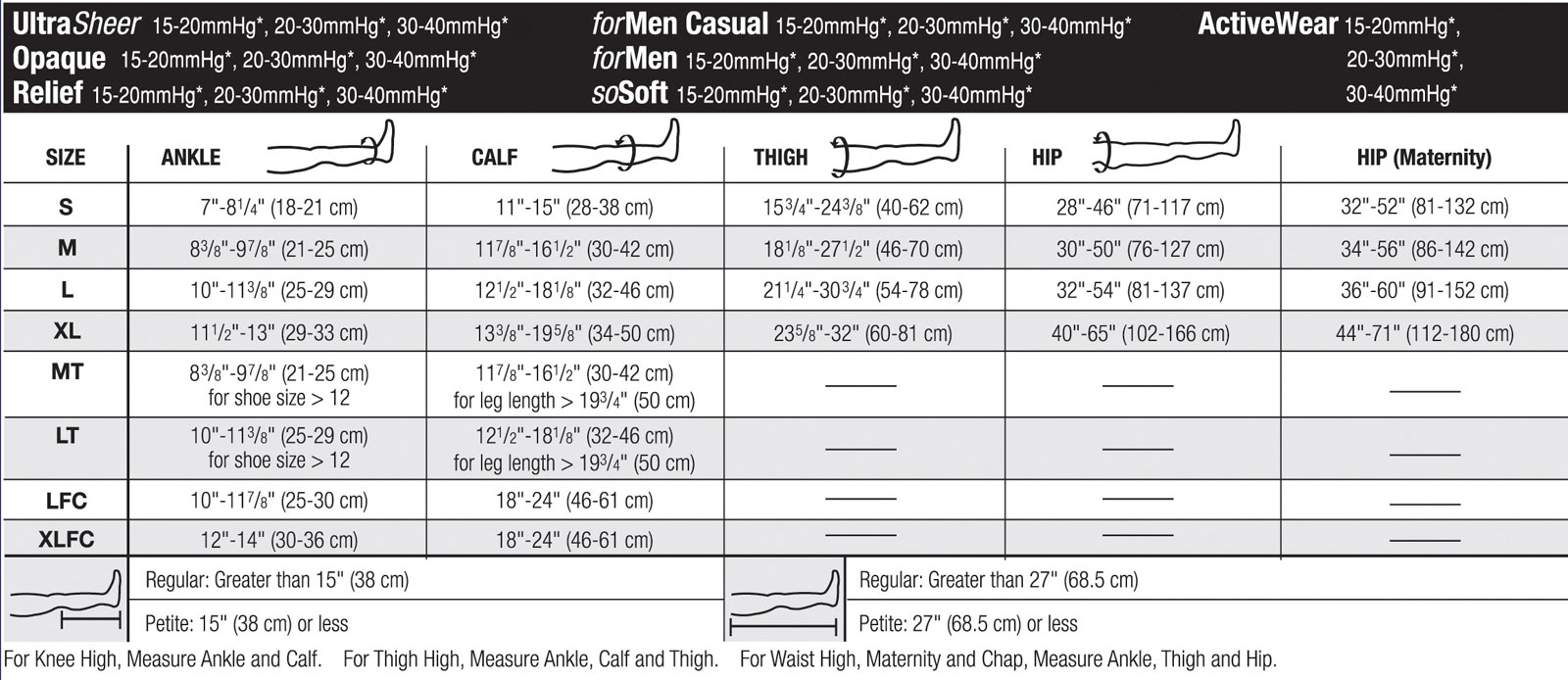 Please note that we have a 12pm cutoff for shipping orders each weekday. If an order is completed after this time, it will be shipped on the next available shipping run.
All enquiries about shipping and tracking should be directed to the appropriate carrier, who will be able to provide further assistance.
Delivery timeframes vary depending on the service (Express, Standard, Click & Collect) selected at checkout and the carrier. After purchase, the item is sent with the designated carrier within 1 business day where possible. Public Holidays and or unavailbility may cause delays in shipping.
For Australia Post delivery times, please see here.
Damaged goods, shortages and discrepancies must be reported within 48 hours of receipt of order.
Returns are at the discretion of SuperPharmacyPlus. Postage costs for returns are the responsibility of the buyer.
Please contact us should you require any further details.
SuperPharmacyPlus is an Australian Owned and Operated business ABN 50 280 623 275 and is a registered pharmacy operating under the Australian guidelines and QCPP standards
Write Review
Very comfortable stockings

Posted by Unknown on 1st May 2018

I think the JOBST brand are the best on the market, might be more in price than some other compression stockings on the market but these are a good fit and I wear all day. You must measure for correct size as this is one of the most important things when buying compression stockings, I wear all day every day, I stand in my job all day. I get great wear out of these, only will last 5/6 months and you will need to replace, if you wear all the time.