The Actimove(R) Air Walker range offers some impressive advanced features for safety and patient care. The high-quality rigid outer skeleton ensure high protection of the foot, ankle and lower leg. Circumferential strapping, a shock absorbing sole and breathable materials provide great comfort for the user. The rocker bottom of the Actimove(R) Walker facilitates a natural physiological gait when walking.
The advantage of the Air Walker, is that it has a liner which can be inflated for further oedema control. In just a few pumps, the inflated liner can reduce the void around the foot and ankle. This improves the intimacy of the fit, reduces unwanted movement, and allows for optimal patient comfort and wearing tolerance.
Features:
Integrated pump and valve system (designed to easily adjust desired compression level)
Circumferential Strapping for increased stability
Breathable liner for optimal skin climate and high wearing comfort
Rocker bottom and shock absorbing sole securely simulates a natural gait.
Indications:
Fractures of the foot and ankle
Lower extremity soft-tissue injuries
Severe ankle and foot sprains
Post-operative and rehabilitation use
Contraindications: Unstable fractures or fractures of the proximal tibia or fibula
Size Guide: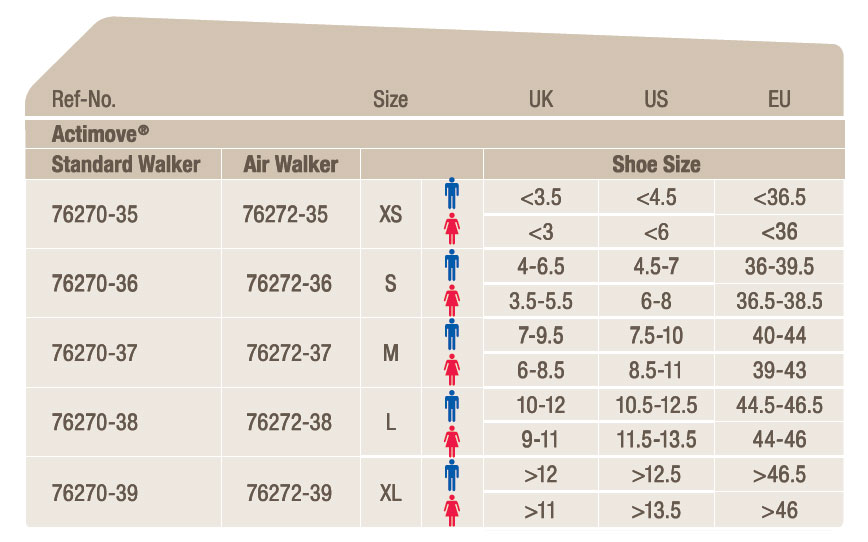 There are no reviews for this product yet. Please write a review here.